Books

Biodiversity Matters Edited by: Suman Sahai Biodiversity has declined by more than a quarter in the last 35 years. In 2009, humanity used 40% more resources than nature can regenerate in a year. Humans have changed the Earth's ecosystems more rapidly and extensively in the past 50 years than in any other period of human history. The loss of biodiversity is, arguably, the greatest threat to world stability and security today. Adding to the pressure is Climate Change that is affecting the habitats and behaviour of many different plant and animal species. Many will not be able to adapt fast enough and may become extinct. This book is an educational tool for anyone who is interested in broadly understanding biodiversity and its importance; threats to biodiversity; sustainable use of biodiversity; and agrobiodiversity. The readers of this book will learn about these issues and their relevance in the Indian context.

India's sui generis legislation on seeds
India's sui generis law for the protection of plant varieties recognizes the farmer not just as a cultivator but also as a conserver of the agricultural gene pool and a breeder who has bred several successful varieties. The Protection of Plant Varieties and Farmers Rights (PPV-FR) Act, 2001, makes provisions for such farmers' varieties to be registered, with the help of others, so that they are protected against being scavenged by formal sector breeders. The most significant feature of the Indian legislation is the right granted to farmers to save and sell seed of varieties covered by breeder's rights but only as generic seed for local use by other farmers. This book is a detailed insight into India's sui generis law and challenges faced by the farmers at national and international level and the way ahead to counter the attacks of the seed industry.  Suman Sahai

Relevance of GM Technology to Indian Agriculture and Food Security 
 Suman Sahai

Farmers' Perception of Agro biodiversity
Gene Campaign initiated a study to understand farmers' perception about the loss of genetic diversity and their opinion about traditional crop varieties and high yielding varieties. This book is the outcome of a study that was undertaken in two districts in Bihar and one in Jharkhand.  Suman Sahai, Waquar Ahmed, Bhaskar Mahanta

Indigenous Knowledge
At a time when there is aggressive promotion of intellectual property rights for inventions in laboratories and research stations, it is essential to establish that rural and tribal communities have generated intellectual properties over generations, especially in the field of bio-resources. This intellectual property has to be treated on par with other forms of intellectual property. Gene Campaign, whose decade-long endeavour has focused on bio-resources and the rights of farming and tribal communities, is now working towards the recognition of indigenous knowledge and its protection. This publication is the outcome of brainstorming sessions conducted by Gene Campaign, involving different stakeholders. It deals with the key issues related to IK, such as its recognition, protection and commercialization, and highlights the concerns of developing countries.  Suman Sahai, Ujjwal Kumar, Waquar Ahmed

Genetically Modified Crops: A Resource Guide For The Asia Pacific
This book deals with genetically modified crops. It explains the science behind genetic modification and its current applications. It then deals with the implications of this new science and the framework necessary to ensures its safe use.  Suman Sahai

Genetically Modified Crops in India: Some Issues
This book deals with some basic issues pertaining to GM crops in India.  Suman Sahai

Status of the Rights of Farmers and Plant Breeders in Asia
This book presents the status of farmers' and breeders' rights in nine Asian countries and flag issues that remain to be addressed.  Suman Sahai and Ujjwal Kumar

Genetic Diversity in Indian Trees
Gene Campaign, a leading NGO working in the field of bioresources, has documented the genetic diversity available in India's tree species and has produced an inventory, which will have theoretical and practical applications. The commercial and non-commercial uses of Indian tree species have been identified. Lists of species that are sources of timber, food, fodder, medicine, natural dyes, oils, fibre, resins etc are provided.  Suman Sahai 

Bioresources and Biotechnology: Policy Concerns for the Asian Region
This book highlights special problems, such as new IPR regime, which confronts the developing world with regard to bioresources and biotechnology and suggests an effective strategy for countries of the region.  Suman Sahai 
Microorganism and Intellectual Property Rights
Gene Campaign- the group spearheading the movement for protection of biological resources in developing countries- organised a National Seminar on Microorganisms. The seminar aimed to define the IPR Position on microorganisms, which would be in India's interest in the context of the WTO/TRIPs. The seminar was attended by a wide cross-section of people including representatives from various institutions, ministries, public and private sector industries, scientists, patent attorneys, NGOs and students.  Suman Sahai 
CDs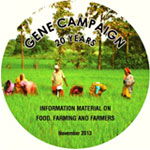 GC-20 Information Material on Food, Farming and Farmers
On its 20th Anniversary, Gene Campaign released a compendium of information material on food, farming and farmers on a DVD.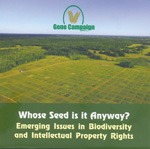 Whose Seed is it Anyway?
This CD "Whose Seed is it Anyway?" is aimed at generating awareness and disseminating information about the importance of biodiversity and the urgency of conserving it. It examines Biodiversity concerns in the context of emerging issues, at both the national and international level. The major issues addressed by this CD are: The need to protect indigenous knowledge, the impact of intellectual property on the genetic resources of developing countries, and the food and livelihood security of rural and tribal communities who depend on such resources.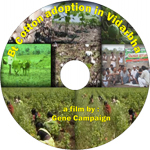 Bt Cotton adoption in Vidarbha
Documentary film narrating the story of how Bt Cotton was adopted, the key players responsible for it & the socio economic consequences. Gene Campaign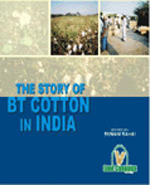 The Story of Bt Cotton in India
GENE CAMPAIGN has made a compilation of the information available on Bt Cotton in a CD titled,  "The Story of Bt Cotton in India"